3D AR and digital work instructions! Discover the 6.3 release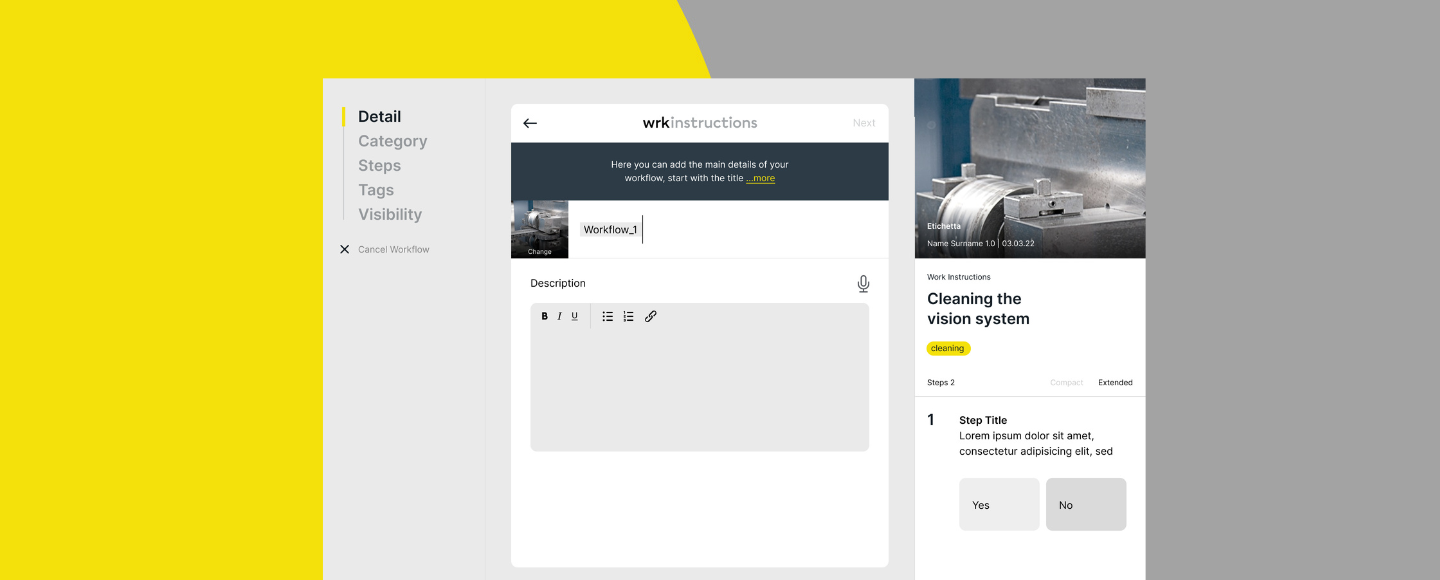 Release 6.3 of Acty is finally here! In this latest update, we have focused on improving functionality during assistance, enhancing our Augmented Reality, and 3D AR indications, creating Acty's new Digital Work instructions that will allow you to guide your technicians step-by-step in the field and record the tasks completed and improving call management by including Call Routing and Missed Call list.
Assistance
3D AR, Augmented Reality
Guiding a technician or customer remotely is the primary goal of Acty. This is precisely why we have improved Augmented Reality directions, transforming the objects placed in the customer's field of view from 2D to 3D, making using the AR drawing function even more accurate. Available for iOS and Android.
The 3D objects that can be inserted are:
arrows for directions
danger and warning symbols
geometric shapes
textual indications
freehand drawing
Video recording of 3D AR
The video feed with 3D AR can now be recorded, documenting the procedures on-field or creating precise video instructions pinpointing precisely what the field operator has to do and sharing them with anyone facing the same issue.
Digital Work Instructions
Digital Work Instructions are the evolution of quality procedures and manuals that provide field technicians with the information to complete complex tasks in real-time. Acty extends the ability to share knowledge and solve problems even when an expert is unavailable. Every operation is performed, recorded, and tracked, so everything is always controlled.
How is this possible? A simple content authoring system has been integrated within Acty to create step-by-step indications for the end customer to perform procedures or solve problems on machinery.
These procedures can contain photos, videos, or PDF documents so that documentation already in the company can be reused. The client or field technician can search for the work instructions directly within the app, scan the QR Code of the machinery created with Acty, or receive them via chat from an expert for self-execution.
Reports of all executed Work Instructions will be archived so that the experts can see the work done by their customers or colleagues.
Do you want to try the Work Instructions?
Contact us and you will be get in touch with our team!
Contact us
Call management
Custom call routing by customer (or by QR code)
For companies that want to start offering customized levels of support to their customers, we have included custom call routing based on customer calls.
This feature allows the user to decide whether to activate the call button and who the audio-video call should go to (groups or experts) or whether to allow the user to choose directly who to call (again for experts and groups). These call classes can also be applied to an Acty QR Code, which is applied to a piece of machinery and allows calls to be made following the rules established for that machinery.
All the rules are centralized and can be changed instantly from the Acty configuration console or, for more nuanced needs, through calls from your systems using the Acty API.
Lost calls list
We have created a list of lost calls to avoid missing any service requests and make your customers' call management more effective. You can find them on one screen, including all calls unanswered because either there wasn't an expert connected or those experts were busy and could not answer the call. Experts can then view this list, keep track of missed calls, and call back customers via chat.
Minor Features
Last, several minor improvements:
Compatibility with the Wide Angle Camera of Iristick smart glasses
Call timeout